TLP-SP Professional Certificate Scholarship Program
The Transformational Leadership Program - Scholarships and Partnerships is developing a cadre of leaders to drive significant change in Kosovo's economic, political, and social development areas.
In three years, the program has awarded a total of 102 Professional Certificate scholarships to promosing Kosovars to complete short-term, intesive programs in the United States. The scholarships were awarded for the following areas of study: rule of law, public administration, engineering, agriculture, management, finance, economics, information systems, education, gender and interdisciplinary studies.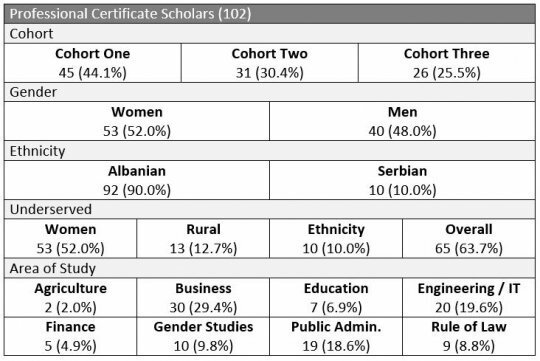 All available Professional Certificate scholarships have been awarded. For more information, contact the program.
Related :
TLP-SP Pre-Departure Orientation
The first group of students to receive full scholarships for graduate study in the United States...read more
TLP-SP Scholars Remember Opportunities with FORECAST
Fresh from a visit to Belgrade, Vladan Jacimovic is drinking orange juice at the trendy Dit e Nat...read more