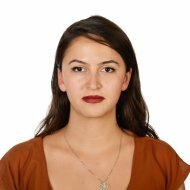 Hana Sahatqija
Advanced Project Management Certificate at Stanford University
Ms. Hana Sahatqija completed her Master of International Development Policy at Georgetown University. During her studies, she became a Teaching Assistant for Intermediate Microeconomics for Development at the McCourt School of Public Policy at Georgetown.
While in DC, she also worked as a consultant for the World Bank as a Data Analyst as well as completed her capstone client project at the World Bank on Early Childhood Development. Prior to her master studies, she worked for UNDP on peace and security of vulnerable communities, while now she works as an Adolescent and Youth Empowerment and Participation Officer at UNICEF.
Based on the skills she acquires during her certificate program in the US, she wishes to come back to Kosovo and contribute to development projects in making sure that they are evaluated properly, and the financial resources channeled into such projects are utilized efficiently.
Also at Stanford University