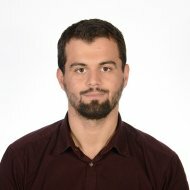 Edison Jakurti
Master of International Development Policy at Duke University
Mr. Jakurti received his Bachelor of Science degree, summa cum laude, from R.I.T Kosovo in 2015. He double majored in Economics & Statistics and Management, and minored in International Relations. Besides numerous academic achievements such as continuously being selected for the Dean's list, becoming a member of the Honors Society, and receiving the R.I.T Outstanding Undergraduate Scholar Award, Edison was highly engaged in extracurricular activities. He co-founded and later became President of the Critical Thinking Club. During his last year of studies, he served as the President of the Student Government 2014/2015.
Edison has done many hours of volunteer work, completed a number of internships and currently works as Property Sales Analyst and Public Relations Officer at the Public Housing Enterprise JSC in Prishtina.
He will be studying International Development Policy at Duke University; and, his ambitions are to acquire academic and professional capabilities to draw and implement development policies that will effectively combat afflictions in society.
Also at Duke University